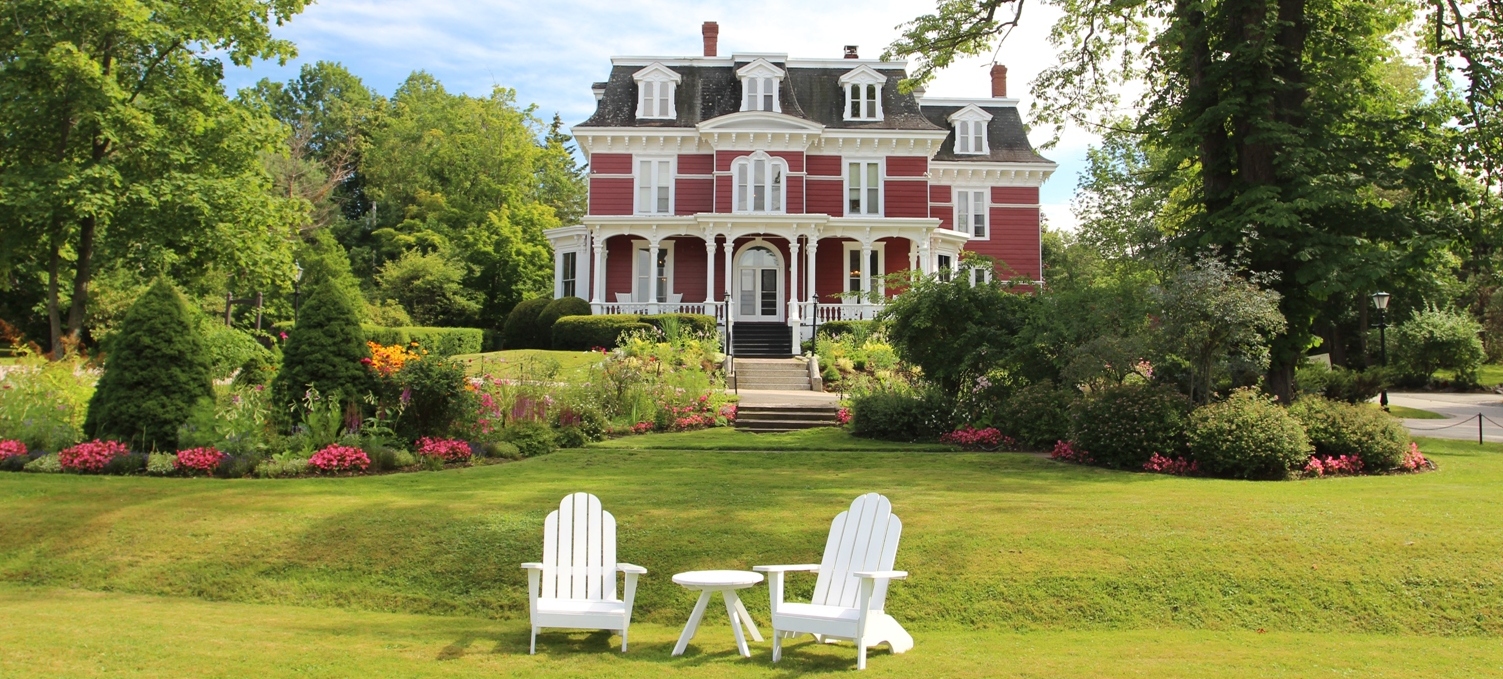 Welcome to the Blomidon Inn in the town of Wolfville, Nova Scotia. Wolfville is in Nova Scotia's Annapolis Valley; an excellent place to experience, the World's Highest Tides in North America's famous Bay of Fundy. The Wolfville area of the Annapolis Valley is the centre of Nova Scotia's "Wine Country". The Blomidon Inn is just moments away from the site of the "Deportation of the Acadian's in 1755. This historical event inspired Longfellow's famous poem "Evangeline". Wolfville is the home of Acadia University which according to MacLean's Magazine is one of Canada's leading small universities. Acadia U brings all the cultural entrapments and professionalism to Wolfville and indeed to "The Valley" as it is known locally, that universities usually bring to their towns.
CONTACT THE BLOMIDON INN
Phone: 1.902.542.2291
Phone toll-free: 1.800.565.2291
Email: innkeeper@blomidon.ns.ca
Address:
195 Main Street,
Wolfville, Nova Scotia. B4P 1C3
Google Maps Coordinates:
45092221, -64350679
1 hour from Halifax
3 hours from Amherst, NS
3 hours from Yarmouth, NS
The Blomidon Inn is in Wolfville, part of Nova Scotia's famous Annapolis Valley.
complimentary High Speed Internet wired in every room.
all with ensuite private bath, telephone, air conditioning, cable TV, each uniquely furnished with period antiques
14 rooms have Jacuzzi tubs and 4 have propane fireplaces
rooms are non-smoking
"Award of Excellence" – Wine Spectator Magazine – lunch: 11:30 a.m. – 2:00 p.m.
dinner: 5:30 p.m. – 9:30 p.m.
reservations recommended
private parties a specialty!
Gardens
Serpentine Rhododendron & Azalea Garden
Cactus Garden
Rose Square, Gazebo
A Three Pond garden area with rainbow trout
Vegetable Garden
Lupin Hill
collections of local rocks including granite, red quartzite, Fundy blue rock and gypsum.
Meeting Facilities
complete meeting facilities and business services
Location
The Blomidon Inn is in Wolfville, part of Nova Scotia's famous Annapolis Valley.
Other
tennis and horseshoes
shuffleboard
minutes from downtown Wolfville and Acadia University
Wheelchair Access
The Blomidon Inn has one guest room with wheelchair access. It is located at ground level and has its own door for entry. The room contains a double bed and a twin day bed. The bathroom is wheelchair equipped and has a shower where one can stand or sit. Please call ahead to ensure this room is available. Wheelchair access to the dining room is available from the back parking lot with a ramp down to the terrace and into the dining room. Again, please call ahead so the staff has appropriate seating etc. in the dining room.
No Elevator
The Blomidon Inn is a three story old sea captain's mansion. Unfortunately there is no elevator, just stairs.
Smoking
The Blomidon Inn has restricted smoking. Smoking is not allowed in the dining rooms, meeting rooms, guest rooms, or the sitting rooms. Pipes, cigars and cigarettes can be enjoyed outside on the front porch or on the terrace but in consideration of other guests. They are not permitted in the inn. We do ask that smokers be considerate of non smokers, and vice versa.
Parking
Free parking is available to our guests on the Blomidon grounds, with easy access to either the front or rear door to the Inn.