Blomidon Inn House of Gifts
Huge Inventory Reduction Sale – April 2017
 40% off all regular priced items — STOREWIDE — Daily 9am – 5pm
Welcome to the Blomidon Inn House of Gifts. For over 20 years the Laceby family has observed the needs and wants of their guests. By offering the finest details they have fashioned true success. Now you may share in this experience. Inside the Blomidon Inn House of gifts you will discover room after room of hidden treasures. Relax and enjoy the journey. Create your own dreams one room at a time. Unearth both unique and traditional gifts for your loved ones. Whatever the desire, it will find you.
Jewelry: The accessory is your personal signature. Sterling silver, pearls, gemstones create a vast selection of beautiful necklaces, delicate earrings, watches and bracelets. Complete your outfit as you entice the imagination.
Crafts and gifts from the Maritimes, the rest of Canada
and the Seven Seas: We are proud to feature extraordinary work form extraordinary local artists. Experience their fresh and
stimulating creations. Listen to the amazing stories that define the meaning of community, the meaning of life. Take home a piece of the Maritimes. Expanding on the maritime flavor we selected an impressive collection of fine Canadian crafts and unique gifts, and from various countries of the world you will find exceptional talent on display.
Bags: An impressive selection of hand bags for every occasion.
From the day collection choose from an array of gorgeous leather in all
colors and sizes. Derek Alexander and Nine West are an absolute must for
any wardrobe. For the working individual we offer a selection of computer
bags designed to manage a hectic day on the go. The evening collection is
breath taking. Delicate bags with exquisite detail are perfection – enhance
your style and make your statement with these exceptional finds.
Hats: Protection from the elements need not be boring! To discover the inner hat lover in one must see, feel and experience the pleasure only a fashion hat can provide. Be daring! Be bold! Choose an elaborate style or remain demure with understated simplicity. Either way create your own story!
Children's: Treasures that will endure. Hand made sweaters, books, stuffed toys and exceptional rocking chairs will give a child a lasting legacy.
Clothing: Embrace the weather in comfort with our selection jackets, wraps and capes.
Men's: A timeless gift touches the heart. Our collection of cufflinks, pocket watches, Edwin Jagger shaving accessories from Sheffield England , and chess sets offer classic sophistication. Make your impression last a lifetime.
Garden: Anyone
can have a green thumb simply accessorize! Browse through our whimsical
garden room and make your home an elegant extension of the garden.
Bed + Bath: The bedroom and bath are places of sanctuary. At the end
of the day let stress fade away as you retreat into a world created to
touch the senses.
Wine accessories: A
fine glass is a tribute to wine. A beautiful table setting is a feast for
the eyes and a sign of all that is to come. Intensify your experience with
our stunning collection of Spiegelau glassware and wine accessories.
Kitchen: A selection to inspire the imagination.
Indulge yourself with affordable luxury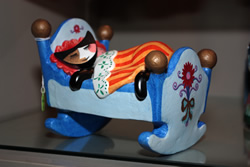 Christmas: It
is Christmas all year long! Elegant ornaments to grace the tree, mantle
and table. Santa, snowmen and nutcrackers are ideal for collectors. Porcelain,
resin and stain glass nativity scenes accent the season and create
an everlasting keepsake.
Cat Collectors: For those who enjoy the cat, our selection is endless. Choose from our featured artists: Jim Shore and Rosine Watchmeister . Satisfy your craving with their intricate details and beautiful workmanship.