Lunch at the Blomidon Inn, a favourite, Wolfville, Nova Scotia Restaurant.
LUNCH is from 11:30 a.m. – 2:00 p.m. Everyone is welcome for lunch and dinner!
RESERVATIONS are recommended for lunch.
Lunch can be a quick repast during a brief interlude from the workplace. Or, it can be a delightful place to linger and enjoy the company of friends, family or associates. You'll find lots of flexibility at the inn. Just advise your server if you are concerned about any time constraints. You'll find some delightful options for lunch on the Blomidon Inn lunch menu. Shown above (clockwise from 5 o'clock) are Lobster Linguini; Blomidon Inn Peanut Pad Thai; Grilled Focaccia. The latter is a very popular vegetarian dish. And remember to save room for a tempting dessert.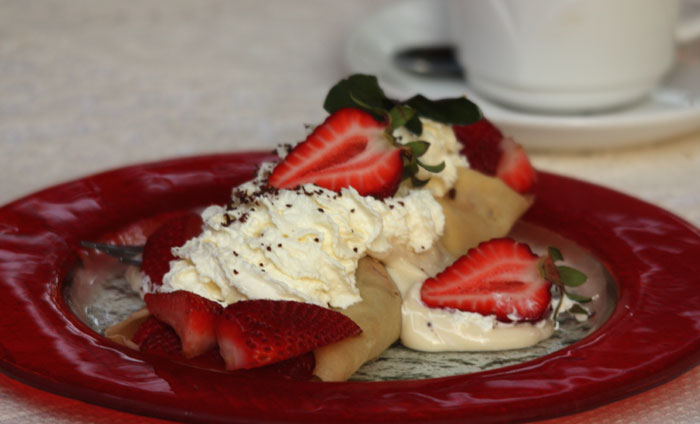 Appetizers or Light Lunches
Blomidon Inn Tomato Bruschetta
$10
on grilled baguette & halloumi cheese
Steamed Mussels
$9
with garlic butter
Maple Smoked Salmon
$11
maple cured salmon smoked hot at the Blomidon
served chilled with fresh baguette & maple yogurt dressing
Salads
Mixed Greens Salad
$8
with choice of house dressing
Caesar Salad
$8
with Blomidon Inn double smoked bacon
$11
with a grilled chicken breast
Roasted Beet & Goat Cheese Salad
$10
with candied walnuts, arugula & yogurt dressing
Soups
Fresh Soup Daily
Cup $6 Bowl $7
Curry Vegetable Soup
Cup $6 Bowl $7
Maritime Seafood Chowder
Cup $8 Bowl $10
With Atlantic salmon, haddock & scallops
Main Courses
Blomidon Inn Peanut Pad Thai
$14
sautéed vegetables in a peanut pad Thai sauce, tossed with vermicelli
topped with toasted almonds & fresh lime
$17
with a grilled chicken breast or tofu
Lobster Linguine
$17
lobster pieces, linguine, tomato & scallions in horseradish cream
served with a side Caesar salad
Pan Seared Salmon
$16
served over arugula salad with toasted almonds, apples & lemon dijon dressing
Blomidon Burger & Salad
$18
5oz ground beef patty on a house made Brioche bun with sautéed mushrooms
braised red wine shallots, cheddar cheese, arugula & horseradish sriracha mayo
served with a side Caesar salad
Fish Cakes with Dill Sauce
$16
two traditional fish cakes made with salt cod, onions, bacon & potato
served with a mixed greens side salad
Grilled Focaccia
$14
The focaccia is a classic Italian bread with herbs, baked in our kitchen.
with grilled portabello mushroom, sliced tomato &
Swiss cheese served with a sweet basil mayo & mixed green side salad
Sandwiches
Soup & Sandwich
$12
served on homemade Blomidon Inn bread
Black Forest Ham & Swiss Sandwich with Soup of the Day
$13
served on homemade Blomidon Inn bread
Fresh Turkey Breast Sandwich with Soup of the Day
$13
served on homemade Blomidon Inn bread with apple cranberry compote