Dinner at the Blomidon Inn, a favourite, Wolfville, Nova Scotia Restaurant.
DINNER is served from 5:30 p.m. – 9:30 p.m. RESERVATIONS are recommended for dinner.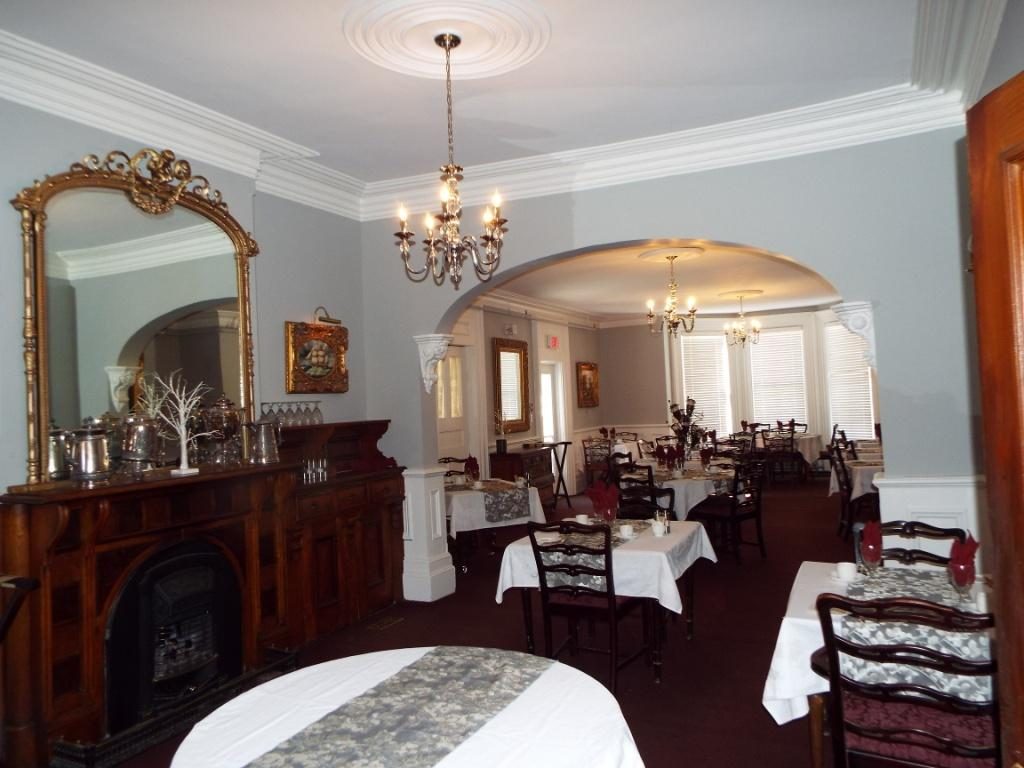 The Laceby Family has been advertising and delivering "offerings fresh from Nova Scotia's Annapolis Valley and bountiful seas" since 1988. We are pleased to offer a large selection of local wines to complement your dining experience.
Appetizers
Steamed Mussels
In a lightly spiced chili, ginger & garlic broth.
$10
With garlic butter.
$9
Maple Smoked Salmon
Maple cured salmon smoked hot at Blomidon
served chilled with a fresh baguette & maple yogurt dressing.
$11
White Wine Mushroom Bruschetta
On grilled baguette & halloumi cheese.
$10
Escargot Au Gratin
Sautéed in garlic butter with leeks & served with fresh baguette.
$9
Soups
Carrot Apple Ginger Soup
Drizzled with maple syrup.
$8
Maritime Seafood Chowder
With Atlantic salmon, haddock & scallops.
$10
Fresh Soup Daily
$8
Salads
Roasted Beet & Goat Cheese Salad
With candied walnuts, arugula & maple yogurt dressing.
$10
Caesar Salad
With Blomidon Inn double smoked bacon.
$8/$10
Mixed Greens Salad
With choice of house dressing.
$10
Main Courses
Pan Seared Salmon
Pan seared salmon filet finished with fresh tomato salsa
on a bed of lemon scented basmati rice & chef's vegetables.
$27
Seared Scallops
Pan seared scallops served over roasted garlic polenta,
with apple parsnip puree, avocado arugula pesto, broccoli &
rosé wine siracha jelly.
$28
Lobster Linguine
Lobster pieces, linguine, tomato & scallions in horseradish cream.
$30
Grilled Filet of Beef
Beef tenderloin served over creamy mashed potatoes, pickled
mushrooms, steamed asparagus, carrot & date puree, red wine jus
& a bourbon bacon butter.
8 oz serving
$37
5 oz serving
$30
Blomidon Inn Peanut Pad Thai
Sautéed vegetables in a peanut pad thai sauce, with vermicelli
& Acadiana smoked tofu, topped with roasted cashews & fresh lime.
$23
With Garlic Sautéed Shrimp
$30
Sous Vide Pesto Chicken
With potatoes, sweet corn, spinach & cherry tomatoes.
$27
breakfast
Served from 7:30 am - 10:00 am for Inn guests.
Coffee available at 7:00am.
lunch
Served from 11:30 am - 2:00 pm. Everyone is welcome for lunch and dinner!
View our lunch menu
dinner
Served from 5:30 pm - 9:30 pm for Inn guests.
View our dinner menu
Reservations are recommended for lunch and dinner.