Dinner at the Blomidon Inn, a favourite, Wolfville, Nova Scotia Restaurant.
DINNER is served from 5:30 p.m. – 9:30 p.m. RESERVATIONS are recommended for dinner.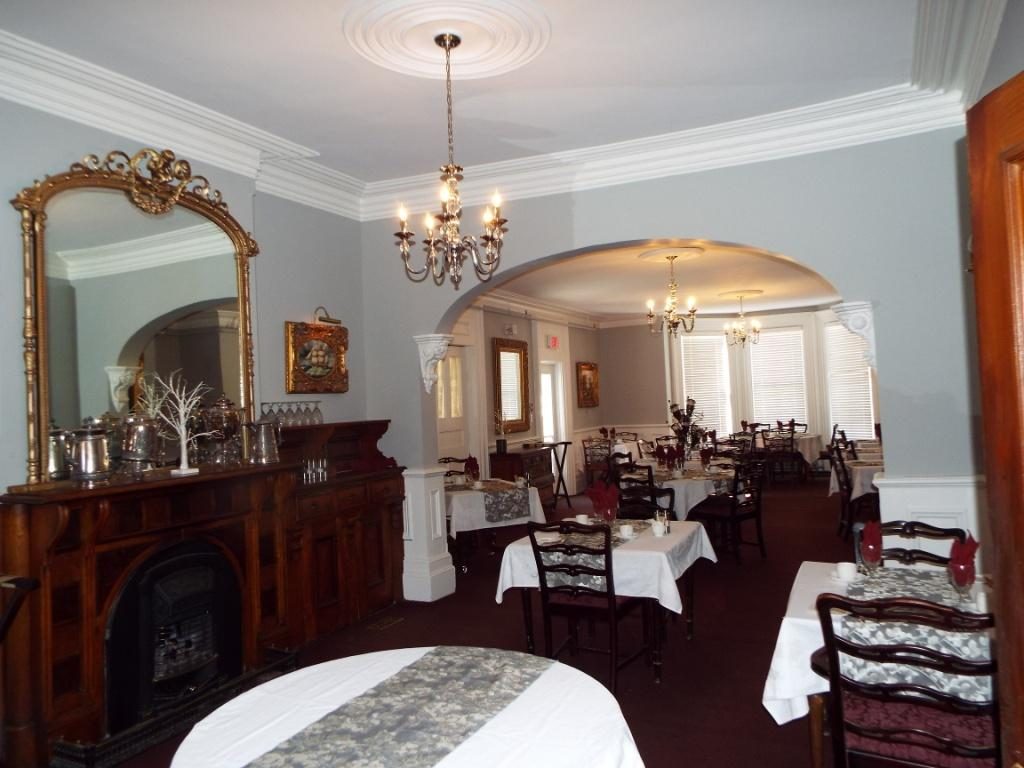 The Laceby Family has been advertising and delivering "offerings fresh from Nova Scotia's Annapolis Valley and bountiful seas" since 1988. We are pleased to offer a large selection of local wines to complement your dining experience.
Appetizers
Steamed Mussels
With sweet peppers, white wine & garlic.
$10
With garlic butter.
$9
Maple Smoked Salmon
Maple cured salmon smoked hot at the Blomidon Inn, served chilled with fresh baguette & maple yogurt dressing.
$11
Charcuterie Board (One Person / Two Person)
with prosciutto, German salami, brie & applewood smoked cheddar. Served with nuts, olives, fruit & grilled baguette.
$11/$21
Fish Cake with Dill Sauce
Traditional fish cake made with salt cod, onions, bacon & potato.
$9
Soups
Zucchini & Basil Soup
$8
Topped with Greek yogurt, parmesan cheese & olive oil.
Maritime Seafood Chowder
With Atlantic salmon, haddock & scallops.
$10
Fresh Soup Daily
$8
Salads
Arugula Salad with Fresh Seasonal Fruit
With celery, red onions, almonds, shaved parmesan & lemon Dijon dressing.
$10
Strawberry Caesar Salad
With Blomidon Inn double smoked bacon & strawberries.
$8/$10
Mixed Greens Salad
With choice of house dressing.
$10
Main Courses
Pan Seared Salmon
Served over herbed lemon rice with chef's vegetables & fresh tomato salsa.
$27
Seared Scallops
Pan seared scallops served over coconut rice
with fresh fruit salsa.
$28
Lobster Linguine
Lobster pieces, linguine, tomato & scallions in horseradish cream.
$30
Grilled Filet of Beef
Beef tenderloin served over creamy mashed potatoes, pickled
mushrooms, steamed asparagus, carrot & date puree, red wine jus
& a bourbon bacon butter.
8 oz serving
$37
5 oz serving
$30
Malai Kofta
Indian spiced potato, cheese & raisin fritters served in a creamy tomato, pepper, garlic, ginger & cashew sauce.
Served with Broccoli & naan.
$25
Pan Roasted Chicken Breast
Chicken breast stuffed with oven roasted tomato,
roast garlic, spinach & feta cheese.
With a medley of vegetables tossed with vermicelli
$27
breakfast
Served from 7:30 am - 10:00 am for Inn guests.
Coffee available at 7:00am.
lunch
Served from 11:30 am - 2:00 pm. Everyone is welcome for lunch and dinner!
View our lunch menu
dinner
Served from 5:30 pm - 9:30 pm for Inn guests.
View our dinner menu
Reservations are recommended for lunch and dinner.